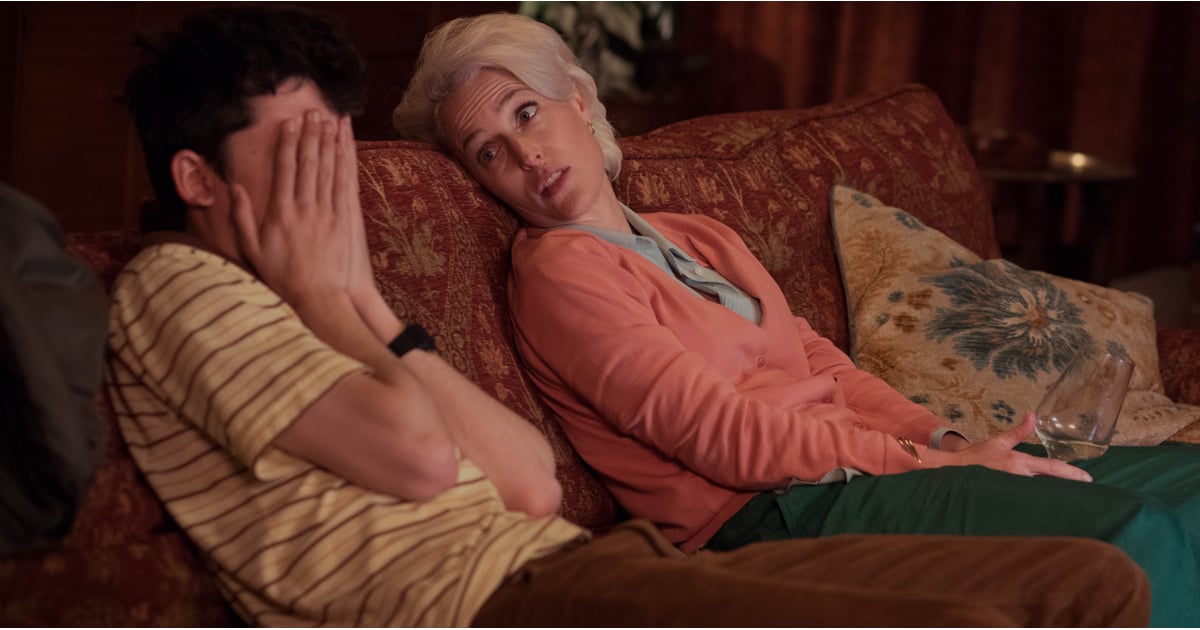 Friday marks the debut of Netflix's Sex Education, an eight-episode series that follows English teenagers who decide to set up an "underground sex therapy clinic" that provides answers to their peers' weird, wonderful, and necessary questions about sex. Asa Butterfield (Ender's Game) stars as Otis Milburn, a teen who happens to be the only child of two sex therapists, Jean and Remi. X-Files star Gillian Anderson plays Jean, Otis's mother who has absolutely no filter, and lucky for all of us, she recently shared one of her most mortifying sex-related stories with Entertainment Weekly, proving that even Dana Scully isn't impervious to awkward moments.
"I don't remember, from childhood, ever having talked about sex, or about the birds and the bees with my folks. But for some reason, one holiday when my family was in town visiting from the states, and we were in London because I live in London . . . we all, not my kids, but the adults, we all went to go see [Sacha Baron Cohen's Bruno] together," she recalled, laughing. "There was a certain point, sitting next to my dad, that . . . I don't even want to say it out loud. [laughs] There's a medium helping to facilitate a virtual BJ. I think that was the point that we all lifted ourselves out of our seats and left the building."
Oof. Something tells us that anyone who saw the cringe-comedy with their parents can empathize. Fortunately, now that Sex Education — which is perfect for fans of Big Mouth or cult-classic Freaks and Geeks, FYI — is finally streaming on Netflix, you can catch Anderson turning the tables on her onscreen son by facilitating a few awkward moments of her own.