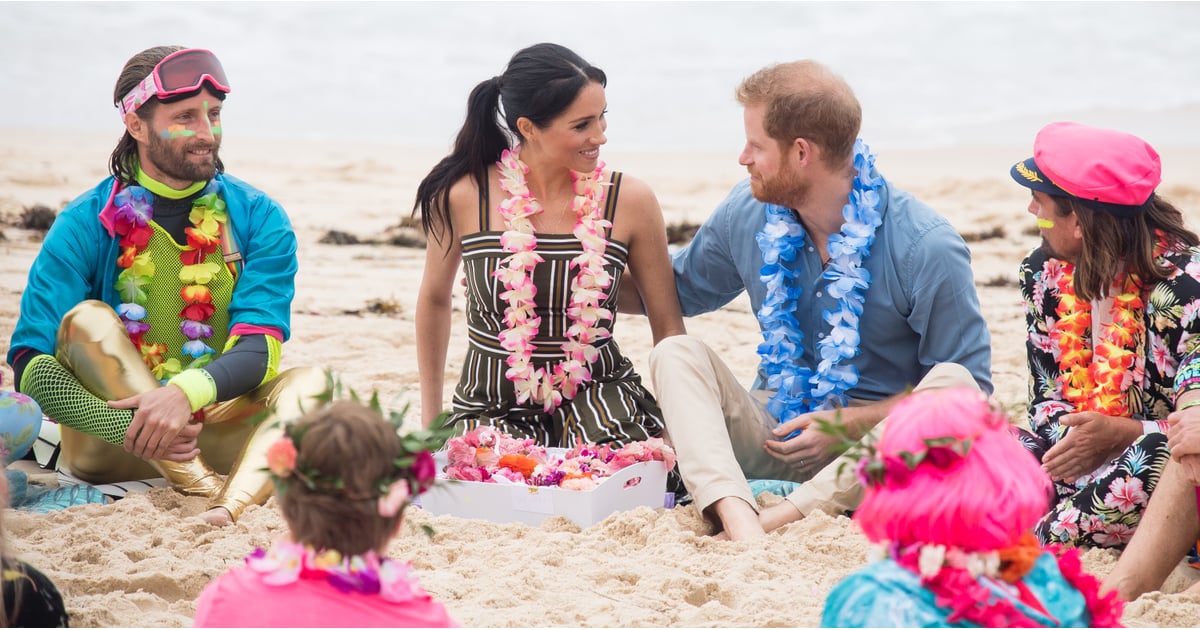 Prince Harry and Meghan Markle have given us more swoon-worthy moments on the first leg of their 16-day tour of Australia than we can handle — between their pregnancy announcement, Harry adorably dancing when a fan played their wedding song, and even Harry reinventing the art of hand-holding with not one but two hands — it's safe to say the bar has been set pretty, pretty high for #relationshipgoals. Not only has their PDA been off the charts, but the royal couple is getting open and honest throughout these meaningful appearances.
While in Bondi Beach on Friday, Meghan and Harry spent time with OneWave, a local surfing non-profit group focused on mental health issues and the power of "saltwater therapy." They were greeted with leis and sat in an "anti bad vibe circle" with the group to share their own stories. According to People, Prince Harry opened up about his own mental health struggles and the importance of fluid conversations.
"Basically he showed us that actually opening up and talking about your emotions is a sign of strength, not a sign of weakness," one of the OneWave co-founders told the publication. "And the sooner you can do that, it actually helps you so much. That was the thing that helped him so much. . . He shared what he's learned along the way, how powerful it is, just community and people helping people. And just being there to look out for each other. And talking."
Since losing his mother, Princess Diana, at just 12 years old, Prince Harry has been open about his battles with difficult times. In fact, just a few days prior, he spoke to a group of people in Dubbo about how important it is to speak up. "Asking for help was one of the best decisions that I ever made," he told the group. "You will be continually amazed at how life changes for the better."
He helped his pregnant wife take off her black espadrilles, he exposed a vulnerable side to himself in front of strangers, and he still couldn't help but look at Meghan like the frickin' heart-eye emoji. Their love is just too pure. Read on to see some of the gorgeous and emotion-infused photos from their time on Bondi Beach, and keep up with all tour moments that prove Meghan and Harry are going to make the best parents.