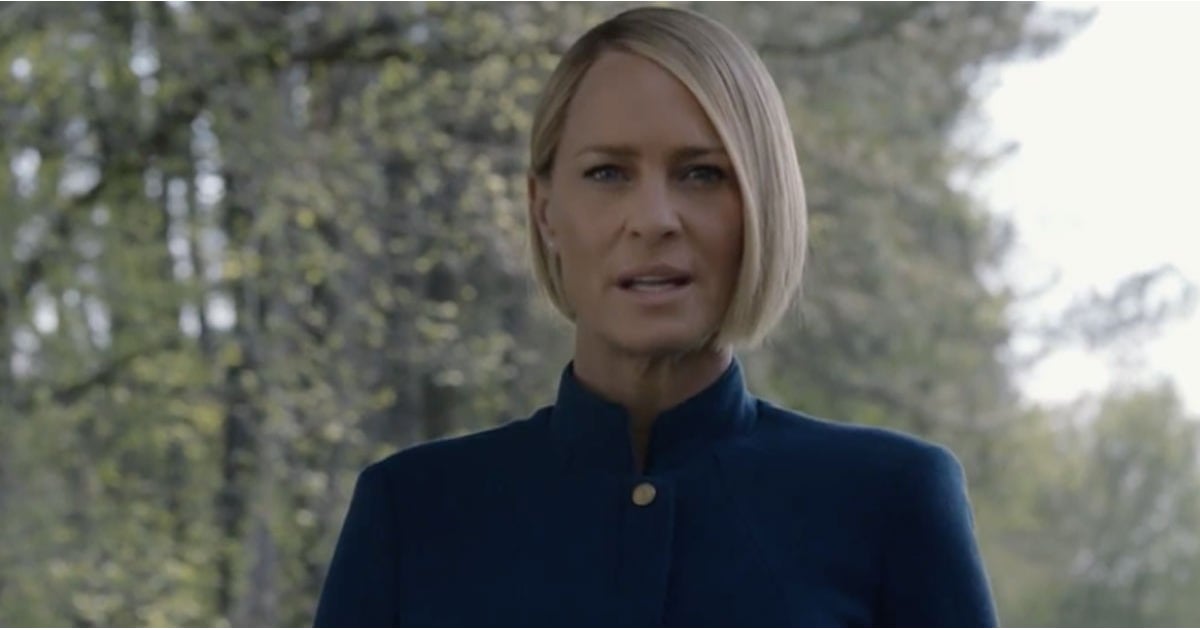 House of Cards is finally giving us a clue as to how Kevin Spacey's Frank Underwood will be written out of the political drama when it returns to Netflix in November. Although specifics are still under wraps, the latest trailer for the upcoming episodes confirms that Frank is currently six feet under, leaving President Claire Underwood (Robin Wright) in charge. What's more is that she doesn't seem to care in the least that her dearly departed, disgraced husband is no longer with us.
"I'll tell you this though, Francis. When they bury me, it won't be in my backyard," Claire says, before breaking the fourth wall to look directly at the camera. "And when they pay their respects, they'll have to wait in line." The camera then zooms in on two gravestones in a family plot: one for Francis J. Underwood, which marks his death as happening in 2017, directly next to his father, Calvin T. Underwood.
The sixth and final season of House of Cards will air on Nov. 2 without Spacey's Frank, leaving Claire to her solo political machinations. Spacey, who is an executive producer on the thriller, was accused of sexual harassment and assault by actor Anthony Rapp in October 2017 and was subsequently fired by Netflix. At that point, all 13 episodes of the season had already been almost completely written, so production was mainly halted to rework the remaining episodes to focus on Claire. Now only eight will air, the last of which will see Wright in the director's chair.