Image Source: Getty / Anwar Hussein
Princess Diana's tragic death is one of the most heartbreaking news stories of the century; the 36-year-old former Princess of Wales was killed in a car crash in Paris on August 31, 1997, and seven days later, she was honored with a public funeral that remains one of the most watched events in history. An estimated 2.5 billion people worldwide viewed or listened to the funeral, while another three million crowded the streets of London to follow the route of Diana's coffin from Kensington Palace to her final resting place at the Spencer family home in Althorp. While the event brought in many well-wishers — and celebrity guests like Tom Cruise, Hillary Clinton, Anna Wintour, and Steven Spielberg — Diana's funeral was originally intended to be a private affair attended only by members of the royal family and her closest relatives and friends. So how did it go from a personal event to a history-making phenomenon?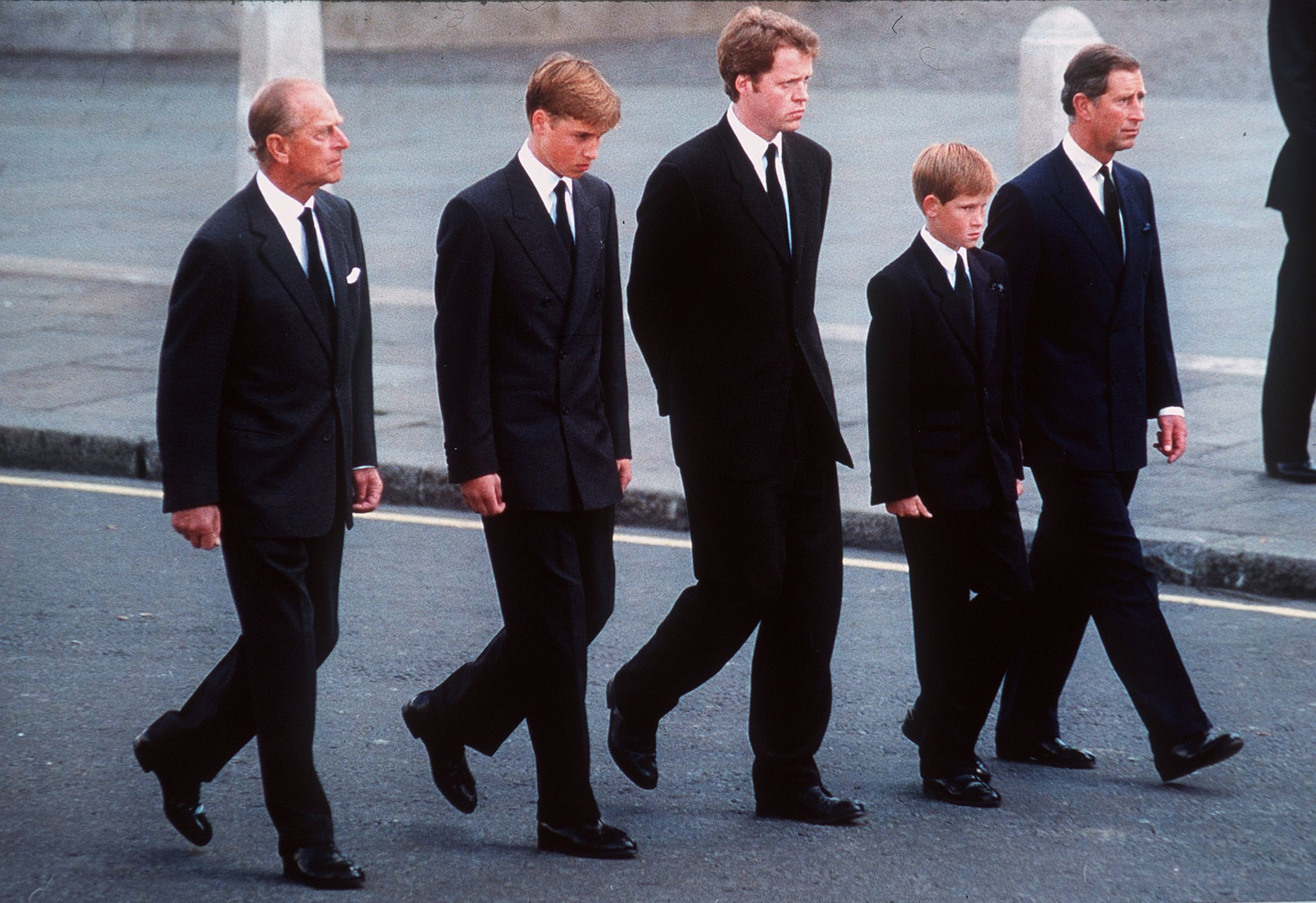 Image Source: Getty / Anwar Hussein
Just hours after Diana's death, her ex-husband Prince Charles arrived in Paris with her sisters, Lady Sarah McCorquodale and Lady Jane Fellowes, to take her body back to the UK. Her passing was met with an extraordinary outpouring of love and grief from the public, and Londoners began leaving tributes of flowers, candles, photos, and personal notes outside her home at Kensington Palace. But the reactions from the royal family had a different impact: they were at their Summer residence at Balmoral Castle at the time of Diana's death, and their initial decision not to return to London (nor to mourn the princess publicly) led to much criticism.
There was also allegedly a very heated discussion about Diana's funeral arrangements. Britain's Channel Four news reported that Queen Elizabeth II had insisted that Diana's ceremony be private, but that Charles put up "ferocious resistance." A senior official close to the circle said that it was "made very clear to Prince Charles" that Diana's body "was on no account to be brought to any of the royal palaces," adding, "The queen's desire was for her to be taken to a private mortuary and then to a private funeral." But when Charles traveled to Paris to pick up Diana's body, he spoke to then-Prime Minister Tony Blair, and the two agreed that Diana should be laid out at St. James's Palace with a public funeral held at Westminster Abbey. Between Charles's tenacious argument, the obvious emotion from people around the world, and an intervention from Tony Blair, Elizabeth eventually relented. Five days after Diana's death, she came back to London and acknowledged the public's outpouring of grief in a live video from Buckingham Palace, and the following day, Diana's public funeral took place.
Starting at 9:08 a.m. from Kensington Palace, Diana's coffin was taken on a route through the streets of London, along Hyde Park to St. James's Palace, where thousands waited in line to sign a public condolence book and where Prince Harry and Prince William joined the procession alongside their father, grandfather, and uncle, Earl Spencer. The coffin, accompanied by eight Welsh Guards, passed Buckingham Palace, where members of the royal family waited outside; Queen Elizabeth II bowed her head as it went by.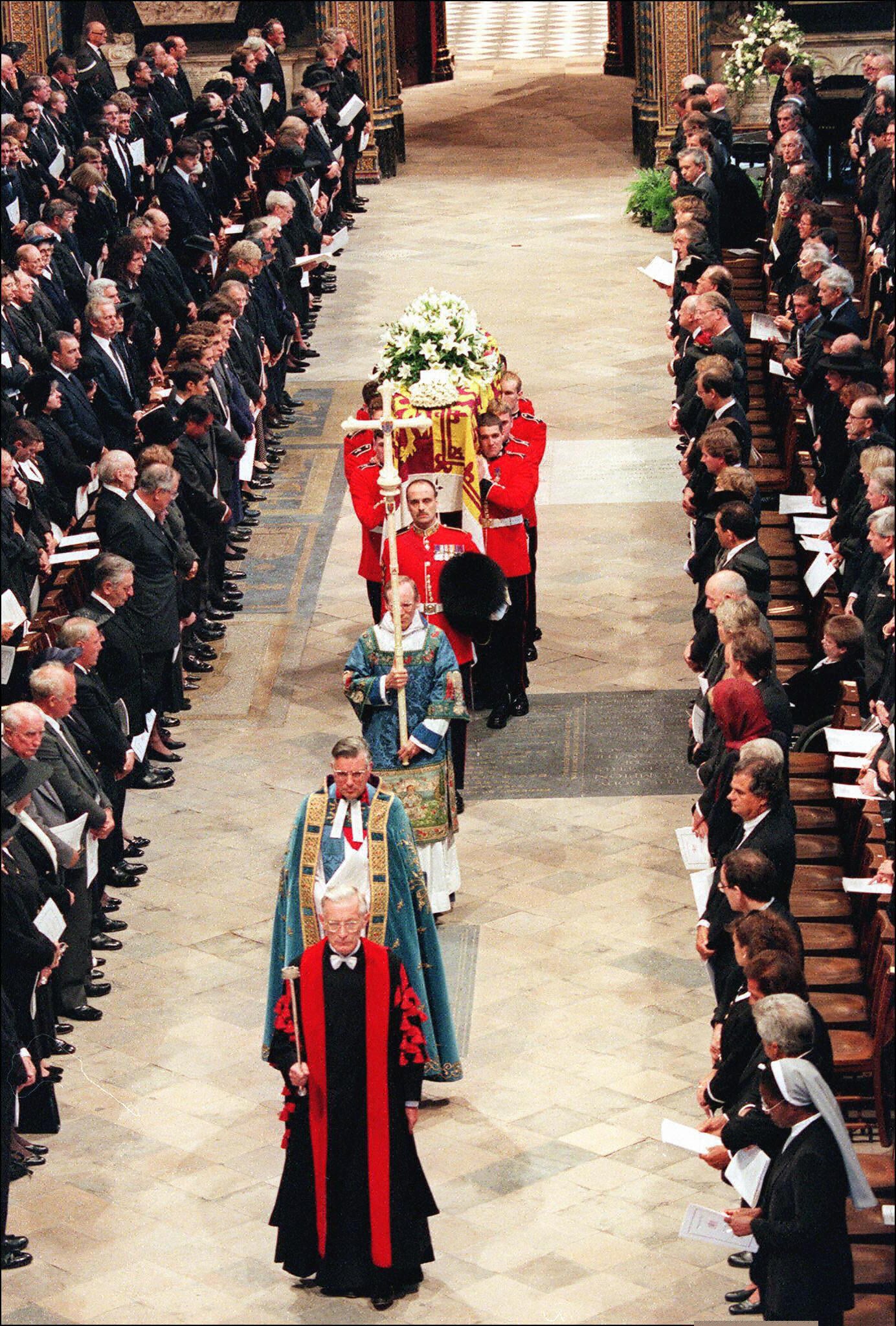 Image Source: Getty / AFP
Diana's ceremony at Westminster Abbey began at 11 a.m. and was attended by government officials, foreign dignitaries, and Hollywood celebrities. Elton John performed "Candle in the Wind," which was rewritten for Diana by Bernie Taupin, who originally penned the song in 1973 to honor Marilyn Monroe. Just six weeks before her death, Diana was photographed comforting Elton at the funeral of their friend, fashion designer Gianni Versace. Diana's brother, Charles, gave an infamous eulogy in which he admonished both the royal family and the global press for their treatment of his sister.
Diana was buried privately later that day. The only people present were a close friend, her mother and siblings, Prince Charles, William, Harry, and a clergyman. She wore a black dress by Catherine Walker and held on to a rosary given to her by Mother Teresa (who, sadly, died the same week as Diana). She was laid to rest on a small island in the middle of a lake at Althorp, her family's estate. Charles Spencer decided that her gravesite was better off there than at their family vault in the local church, because it could be more easily cared for and offered better privacy for William and Harry to visit. The island where Diana's grave sits is accessed by a path of 36 trees — one for every year of her life — and black swans and white roses float in the water. Despite the drama surrounding Princess Diana's funeral plans, the public event still has an impact on all of those who watched and attended it and speaks volumes about her influence around the world.