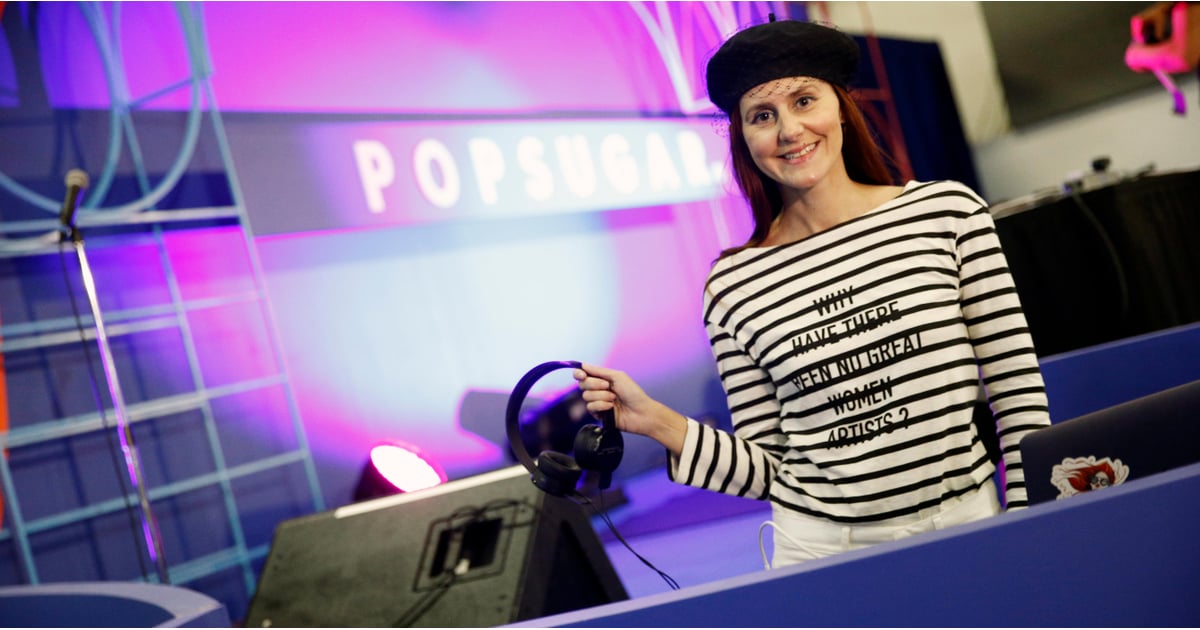 I met Nikki Pennie at POPSUGAR Play/Ground in June, where she was spinning all-female music all weekend. That Pennie was the in-house DJ at POPSUGAR's female empowerment event aligns perfectly with her background: she's worked as a fashion stylist, she serves as the official DJ for Dior Beauty, and — in the very male-dominated fields of electronic dance music and sound engineering — Pennie's primary goal is to elevate and promote female artists.
Later this Summer, the self-proclaimed "She-J" is releasing a six-song EP of EDM; she describes her sound as "a mix between Flume and elegant Skrillex." One of the tracks is an EDM cover of "Last Night a DJ Saved My Life" called "Last Night a SheJ Saved My Life." All of the songs feature up-and-coming female vocalists, including Edei, Leslie Powell, Sissy Clemens, and Quinn Archer. "The songs are girl-power dance anthems," Pennie says proudly.
Pennie moved from London to Los Angeles about eight years ago, where she worked as a stylist for Issa. "Randomly, I got asked by a few brands to DJ," Pennie recalls. "I went to dinner with some friends of mine who work in the DJ world, and I was like, 'Guys I've gotten offered these jobs and I don't know how to DJ.'" They put Pennie in touch with a renowned British music producer named Dave Garnish, who was coming to Los Angeles to train DJs. The serendipitous timing allowed Pennie to find her mentor and spend a few months apprenticing under Garnish.
Pennie started doing small events and found she had special skill for reading a room. That, combined with her producing chops, led to her DJing events all over the world within six months. "This was suddenly my main source of income, which I never thought would happen," Pennie says.
It probably comes as no surprise to anyone that Pennie encountered challenges as a woman succeeding in a male-dominated field. "It was tough in the beginning, because I got a lot of backlash from male sound engineers, and I still get backlash from male DJs. I think they thought I got ahead because I'm in a pretty dress at glamorous parties." But Pennie knows her sh*t: "When I talk about producing with other guys [in the field], they can't believe my knowledge."
In 2016, she got the gig as Dior Beauty DJ. In addition to serving as a brand ambassador, she DJs Dior events and attends Fashion Week shows. "I wasn't into makeup before, but now I'm a total junkie," Pennie says. She particularly loves the new, more affordable Dior Backstage line as well as Dior Lip Glow ($34), which is perfect for keeping her lips moisturized while DJing since she can apply it without a mirror.
While she's a recent convert to beauty, Pennie has always been into music. As a kid, she played the piano, recorder, and violin, and her all-time favorite artists are — unsurprisingly — all women: Nina Simone, Aretha Franklin, Adele, Amy Winehouse, and the Spice Girls. She also gravitates toward girl-power anthems like "Unstoppable" by Sia and "Run the World (Girls)" by Beyoncé.
After POPSUGAR Play/Ground, Pennie jetted off to DJ at The Girls Lounge at Cannes Lions. "I love being a part of things that are so female-empowering where you meet so many amazing women," she says.